Today's article was on
'Dog Chewing'
I recommend reading that as there's not much more I can elaborate on here. However in that article I said I would show some toys, bones, chews, and interactive toys I recommend. So I'm not writing much today, just showing you all some good toys to keep your dog from chewing up your house.
Click on the images to read more on them.
Bones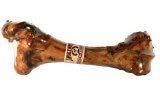 Smokehouse USA 100% Natural Meaty Mammoth Bone
This is a very large bone that will take your dog hours, usually days to work on. It of course depends on your dog. Depending on where you buy them they seem to vary in price. This one is actually priced very nice and very affordable.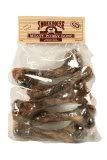 Smokehouse USA 100% Natural Meaty Porky Bone 8 Inch Dog Treats, 5 Pack Bag
These are great as they come in a 5 pack bag and will keep your dog's interest until it's gone. Some dogs might go through them quickly, others it might last them all day. These are really great for puppies as it will usually last them all day and can be great to keep them company in their crate. Give your dog one of these a day with 4 other items to chew.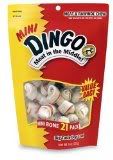 Dingo Mini Bones 21-Pack Value Bag, 9-Ounce
If you have a small dog, this pack will be great. You get 21 bones in a bag and they will last you quite a while. Add more flavor to them by dipping them in chicken or beef broth then letting them dry before giving them to your dog. You can even smear a bit of peanut butter on them. Though flavor isn't needed as dogs love them on their own, it can add a bit of variety.
Redbarn Peanut Butter Flavor Meat Filled Bone
These bones are excellent! I love these because your dog will spend hours trying to get the filling out from the inside. Once they finally get it out you can refill it with peanut butter and give it to your dog again. Freeze it with the new peanut butter for it to last even longer. Some dogs are able to break it after a while but it usually lasts a long time before they do. Keep a few on hand and you'll be set. These bones come in different flavors, like chicken and beef too. If you'd like different kinds, just click on the link above and then do a search for the kind you want.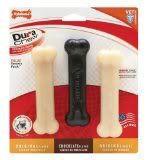 Nylabone Dura Chew Value Pack, Regular, for Medium Dogs
Nylabones are an excellent choice too. Not all dogs love them but most do. They come in a variety of shapes and sizes. Click the link above then do a search for Nylabones and you'll see a lot of different options to choose from. Nylabones usually last a really long time. At least with my dogs they have. Keeping a few of these on hand can be a life savor, or in this case a house savor.
There are several options for bones for dogs and just about all of them are great. Rawhide bones you have to be careful with as they can expand and cause blockages. Dogs love them but do be careful and limit their Rawhide intake.
Chews
Chews are a lot like bones, but don't last nearly as long, some only a few minutes depending on the chew. Still they are great to have around the house.
C.E.T. Enzymatic Oral Hygiene Chews for Large Dogs, 30 Chews
These chews are not only great in giving your dog something to chew on but are also great for their teeth and breath! Depending on your dog will depend on how long they last but they are vet recommended.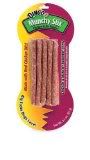 Dingo Munchy Stix 10-Pack, 3.1-Ounce
These chews are more for the smaller type dogs. Small dogs tend to take longer chewing on things so they could last anywhere from a few minutes to maybe 30 minutes depending on the dog. If given to a large dog they'd probably be gone in seconds.
Booda Bone Dog Treats, Bigger Booda, 9-Pack, Assorted Ckn/Bacon/Steak
Booda bones are wonderful, they are a mix between a dog bone and a dog chew. Depending on your dog they could last all day. They come in a 9 pack and an assortment of flavors. Give one a day with a few other chewing options.
Milk-Bone Porkhide Twists Smoked - 20 Pack - Medium - 6 Inches
These can be great, they are made out of porkhide so you still want to be careful and limit their intake. A 20 pack of these, along with a few other chewing options can last you quite a while. Make sure your dog doesn't get too big of a chunk off and swallow the whole thing, get a size appropriate for your dog.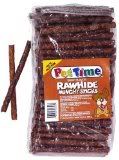 Rawhide Munchy Sticks Beef, 5" 100 Pack
These little Rawhide sticks are great. They are made with little pieces of rawhide so are safer for your dog to eat than the actual rawhide bones. Most dogs can eat these pretty quickly but they do tend to love them.
6" Bully Sticks Select 30 pieces
Dogs love Bully Sticks! These are also a mix between a bone and a chew, they can last an hour or more on most dogs. I definitely recommend having some of these on hand. They usually keep a dogs attention until it's gone. This is a large pack, but you can buy them individually or in smaller packs if you'd like. Click on the link above and just do a search for Bully Sticks.
Interactive Toys
I've mentioned Interactive toys many times through out my blog and have even showed you a few. Still I'll show you again. These toys are great because all you have to do is keep refilling them with your dogs food, treats, or smear some peanut butter on or in them. They should last for years and help so much in a dog's development.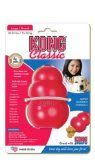 Kong Classic Kong Dog Toy, Large, Red
Kongs, one of the #1 dog toys on the market and has been for years. You can't go wrong with a kong. There are hundreds of different things and special recipes you can fill your dog's kong with to keep him entertained. Just do a search for Kong Recipes on the internet and you'll see several search results. It can be as simple as smearing some peanut butter in them, filling them with dog food, or making something really special to put in them. Freeze it for a few hours to make it even harder to get out. Dogs absolutely love these toys! Not only are they great to fill with food and keep your dog busy for hours, but you can also use it as a regular dog toy to play with. Be sure to get one appropriate for your dog, click the link above and do a search for Kongs. You'll get a variety of sizes and such to choose from.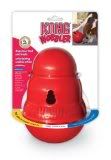 Kong Wobbler Dog Toy
The Kong wobbler is another excellent toy. Fill it with your dog's kibble and let your dog have at it. Let them work for their breakfast and dinner. Keep them busy while your busy. Dogs love this toy!
StarMark Day-Glo Everlasting Fun Ball, Medium, Green
This is another favorite of mine. Fill it with your dogs kibble and let your dog get it out. Dogs love it and will spend hours trying to get all of it. It's pretty indestructible and should last your dog's lifetime.
StarMark Everlasting Treat Ball, Large
Yet another favorite of mine, fill the inside with treats or kibble, then you can put these bone type things on both sides that your dog has to chew through to get to the kibble. Wonderful idea and will keep your dog busy for hours. Buy refillable bones with these;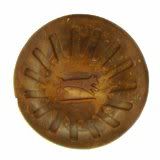 Everlasting Treats Large Chicken, 2 pack
They all come in different sizes so get one that is right for your dog. The refillable bones come in different flavors, so your dog can have a variety. These toys should also last your dog's lifetime.
There are many more interactive toys to choose from, click any of the links above then do a search for interactive toys, kong, starmark, or busy buddy.
Toys
Dogs also need just plain toys to chew on. Nylabone and interactive toys can also go as toys to chew on but things like rope toys and such are also great.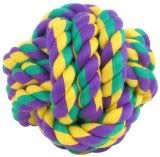 Multipet Nuts for Knots Ball Medium Dog Toy
These are great for dogs to chew on as the rope helps clean their teeth. The ball is very tightly knotted so is not easy for your dog to chew through. Dogs love to chew on it, you can also use it to play with.
Ethical Pet Mega Twister Heavy Rope Knot Ball 15-Inch Dog Toy
These are also great as it's a knotted ball and a rope toy mixed into one.
Booda Fresh N Floss 3 Knot Tug Rope Dog Toy, X-Large, Winter Mint
This rope toy helps teeth, helps freshen breath and has 3 knots instead of just two for longer lasting fun.
There are many rope toys and chew toys out there, click on any of the links above and do a search for more.
Mix a variety of these toys and chews together every day and keep your dog busy for hours on end. Offer one of each, 5 chew options is recommended, keep them on hand. Use interactive toys for breakfast, lunch and dinner. Toys, and bones for daily activity, chews for an afternoon snack. You can put any of them in your dogs kennel, room or ex-pen while they are in there. If your off to work, leave extras hidden around the house for your dog to find. Hide them in the yard even.
Having plenty of things for your dog to chew is a must at any age for your dog. Like I said in my article, chewing is like reading a good book or playing your favorite game to dogs. Let them chew, but make sure they are chewing the appropriate items! Adding any of these items to your house will help tremendously in keeping your house chew free.